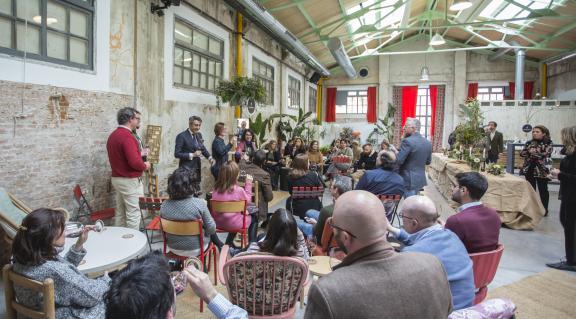 The first day
Publicada el 24.02.2021
It has been a year since Dominio Fournier Crianza 2016 was released onto the market in Spain, at a press launch in Madrid that brought together the wine and lifestyle press to taste the wine and hear all about this new venture that the Family of Wines was embarking upon in Ribera del Duero.
A clear, open space lit by chandeliers, with coloured armchairs and the look of an artisan workshop, welcomed more than 50 people. Dominio Fournier's two winemakers, Marian Santamaría and Laura Terrazas, had left behind their beloved vineyards, the sound of the pebbles moving underfoot over the terroir, the breeze drifting in between the trees along the edge of the river Duero and the heritage of a winery founded in 1960, to pound the pavements of Madrid and sate the curiosity of the guests.
Warm smiles and meetings celebrated the satisfaction of a job well done and the care taken in the making of our wine, all in the company of a piece of craftsmanship, a sculpture created by artist José Piñero.
Famous for designing the tableware for many Michelin-starred restaurants in Spain and around the world, he created a sculpture made with love, specifically for the launch of our wine. A great communicator with a passion for detail, he suggested that after tasting the Dominio Fournier Crianza 2016, each guest should add a decoration to his sculpture, a gesture that would also enable them to feel the craftsmanship and indulge in a magical moment of working with their hands.
Afterwards, attendees were naturally drawn to the armchairs, where they were able to meet one another, talk and ask detailed questions about how this wine is made and what it meant for the winemakers that their creation had finally seen the light of day. "When you love what you do, the outcome is worth the effort" would be on way of summarising how everyone felt as we welcomed the release of this great wine.
Volver a noticias